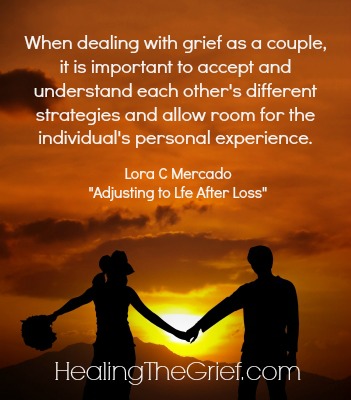 Dealing With Grief As A Couple
When dealing with grief as a couple, we need to respect the way the other person grieves. It may be the complete opposite of how we grieve ourselves, but it doesn't make it wrong. We need to be patient with our spouse because they are doing the best they can with the situation they have been placed in.
The quote above is an excerpt from, "Adjusting to Life After Loss, Coping with the Death of a Loved One & Honoring Their Memory".
Life after a loss can be difficult, but there are ways to make it more bearable.
Written by Lora C Mercado, who endured the death of her son in 2003, this book will give you tips and strategies to help you heal from the shock and desperation from losing someone you love. Also included are true stories from others who have walked the journey of grief, and how they have overcome the raw emotions that accompany the death of a loved one. You will also find a selection of poems, and a list of grief support resources, that will help you on your road to healing.
CHAPTERS INCLUDE:

Getting Through the Grief
Stages of Grief
Types of Grievers
Grieving the Loss of a Child
Grieving the Loss of a Spouse pr Partner
Grieving the Loss of a Parent
Grieving the Loss of a Sibling
Grieving the Loss of a Friend
Grieving the Loss of a Pet
Grief of a Caregiver
When a Loved One Commits Suicide
Coping with Multiple Losses
When Grief Turns to Anger
Helping Children Through Grief
Grief During the Holidays
What to Do with Their Stuff
How to Create a Memory Garden
Grief Journal or Letters
Useful Grief Therapies
Journey's of Grief
Tips to Help the Grieving
Poetry of Grief and Hope
Grief Support Links
Image courtesy of Exodus @ FreeDigitalPhotos.net