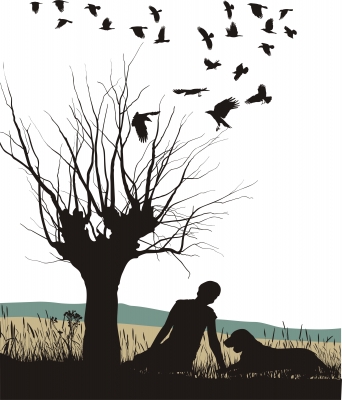 The companionship we receive from our pets is one of the strongest bonds we form in our lives. Many people value their pets on the same level as a family member. When we must say goodbye to our beloved friends, it can be a devastating experience. When you are used to coming home to be greeted by your pet that has been waiting to see you all day, and the house is empty, it can leave a void in your heart.
Some people choose to get another pet right away to try and fill the void, while others tend to wait for the grief to subside. Certain people feel like they don't want to dishonor their deceased pet by "replacing" them. The truth of the matter is that each pet has it's own personality, and you have shared special moments with that pet that no other can compare to. The bond is different with every animal, just like it is with a child. We love them all the same, but for different reasons. If you feel like having another animal in your house is what you need to heal, then I suggest you get one. If you need time, then listen to your heart, and give yourself the time to grieve the loss of your pet before getting a new one before your are ready.
There are things that we can do to honor and memorialize our pets after they pass away:
Donations in their name can be made to the Humane Society, or other animal charity of your choice, or you can volunteer at a shelter.
Create a nice place to reflect on your pet's life in a small flower garden, using a pet memorial stone that has a poem on it, or the name of your pet. Add a statue that looks similar to your pet.
Take your favorite photo of them and have it put on a large canvas to hang in your home. There are many affordable websites that offer canvas prints in many sizes.
The main focus during the times you are missing your pet the most, should be about the wonderful days you shared together. The snuggles, the play time, and the joy that they brought into your life. They wanted you to be happy while they were on this earth, and they continue to send you love from the other side.
Image courtesy of Vlado at FreeDigitalPhotos.net