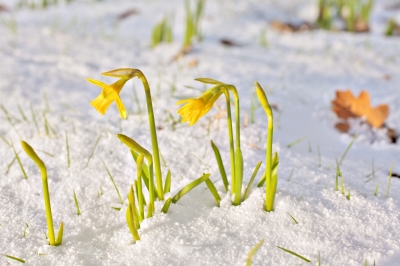 The Season Of Spring And Grief
For those of us who are grieving, the season of Spring can bring about a lot of deep emotions. Spring is a sign of new things and growth. The flowers are emerging from the ground and the people around you are excited about the upcoming warm weather and enjoying fun with their families. The combination of theses things can give the bereaved a strong sense of loss and loneliness.
In our hearts, we are wishing we could share the bright new days ahead with our loved ones. We know that we will miss them when those days finally arrive. It is the dread of what feelings will arise, compounded by the excitement of others, that can throw a person who is grieving into a reclusive state. Easter and Mother's Day can be especially difficult. If these holidays are weighing heavy on your mind, think of a new tradition you can include on those days to honor and remember your loved one, such as planting flowers in their memory.
If you find yourself feeling like you want to be alone and you are not leaving your house, you may be showing signs of depression. Many of us choose to be alone during grief, especially for ones who are in the beginning stages. When the sun is shining, at least take yourself outside for a nice walk. You can even go to a park and walk on a trail or just sit on a bench and read or write in your journal. The sun will be good for you, as well as the fresh air.
We all need the time to process what he have lost and gone through. Be gentle on yourself during this season. Don't hesitate to reach out to others in local or online support groups that can relate to the feelings you are having. Grief counseling can also be of great help during these rough times when we are prone to feeling a stronger sense of loss.
For further reading about handling grief, read: Talk About Your Grief.